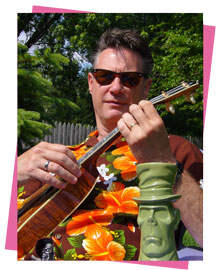 Dave's interest in building and collecting ukuleles came from his father Ray, whose own interest began when he was about seven. Couple that with his dad's Design Engineer background, this created a perfect environment in which to mentor young Dave.
Drawn to art at an early age, Dave was driven to create, be it sketching, painting sculpting or woodworking. Many believe that creativity is an intrinsic talent and Dave feels his artistic ability was enhanced by the logic and engineering his father passed to him.
With a Bachelor's Degree in Art and Design, he has landed a number of jobs in the design field and holds a full time position there. He also has a passion for music and eventually set his sites toward combining his two loves.
He began making acoustic guitars, honing his craft very quickly. Eventually commissioned to build a ukulele for a friend, Dave realized -and appreciated- the cult following this instrument holds. It was in the ukulele that Dave found his niche… and knew there was no turning back.
Dave is among an elite few being regarded as top custom ukulele builders today. Though his waiting list is long, never has anyone claimed it not worth the wait.