I am now the proud owner of a Dave Talsma painted pineapple ukulele. Stunning is the word that comes to mind when I look at it. Beautifully painted spruce top, flamed maple back, neck and pineapple headstock with a crazy green tint. All of the details are exquisite, from the tortoise shell binding to the inlay on the ebony fretboard. But as beautiful as it is to look at, it gets even better when you pick it up and hold it. It just feels right.
Have I mentioned the sound yet? It sounds as beautiful as it looks.
The intonation is perfect. (It even arrived in tune.) The tone is extraordinary. It's so beautiful, it's surreal.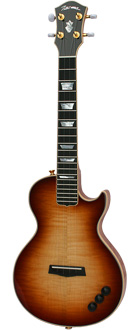 Dave Talsma is fearless when it comes to designing and building ukuleles. He can build a ukulele utilizing time-honored traditional designs... or the wildest design your mind can dream up. I've seen and played many of his conventionally styled ukuleles as well as a number of his "specialty" theme models. No matter the size, the shape, the wood choices or the amount of ornamentation, they all, without exception, have a fantastic musical singing voice and tone. The intonation is perfect for the entire length of the neck. They look incredible. They feel great under your fingers. They play as smooth as silk.
Think about it... Dave has built many ukuleles over the years. They are in the hands of professional musicians as well as hobbyist players. You never see a second-hand Talsma uke for sale. Once you have a Talsma, you keep it for life.

Bob
I received my uke today and it is awesome. Perfect in every way, and it sounds very mellow but with great sustain. Thanks for a great instrument and experience co-designing this uke.

I don't know if enjoying is the right word for how I'm feeling about my new Talsma 3M.  Maybe enraptured is closer although even that falls far short. It completely exceeds all of my expectations.  Not only is it about the most beautiful uke I've ever seen in my life but the sound is like having angels kissing my ears.  Its truly a great honor to play an instrument this wonderful and I can't thank you enough for building it.

Dave Pasant
I just can't help myself from sounding Dave Talsma's horn. He just finished a concert size Lyon and Healy Bell for me. It is all koa, in an exact duplicate of L+H's Super Deluxe detailing, right down to the split wood sandwich V shaped neck. The workmanship is truly flawless, and the sound is incredible. I loaned him an original bell and he proportionally increased the size perfectly, and even was able to replicate the original bracing systems. Those of you who saw his work at the Uke Expo know how good the finish is, that being fantastic. This guy is hands down the BEST of the current makers out there. Truly without peer.

Santosha
YES, Dave Talsma is the Man! My pineapple six stringer got the most ahhhhs! when I played at our winter dinner gathering for my co workers, in which I was the host.... so they had to listen to me play. I brought along a few of my ukes and everyone wanted to to touch that one...it plays great too! Dave where am I in line????
I recently bought a new uke from David Talsma and was so impressed with it...I'm always impressed with his attention to detail, the uniqueness of each of his ukes, the playability and sound... Dave's ukes are suburb. Intonation is perfect, sound is loud and crisp. Considering the quality his prices are very reasonable.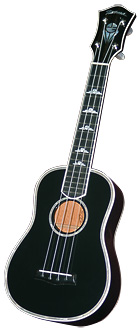 Davis Sweet
Rushed home from work today to unpack my new custom-made uke from Dave Talsma. Knowing Dave's work, and the time and thought he put into my uke, I expected it it to be nothing less than fabulous. When I opened the case, I was not disappointed. Every aspect of the uke is outstanding: The custom inlays, the feel of the neck, the flawless finish, the binding, the tone, the intonation. Even my wife, who is usually oblivious to the sound quality of instruments, noticed the superior sound of the Talsma. I can't say enough about Dave's work, and what a pleasure he is to deal with. Dave Talsma deserves a place in the pantheon of truly great ukulele makers. Thanks Dave!
Dave: I just wanted to mention again how much I like the guitar you made for me. I play it nearly every day. I take a half hour lesson each week from Ed Carter, (formerly with the Beach Boys for more than 20 years). Only yesterday he picked up the Talsma Guitar and played it. When he finished, he handed it back to me and said, "What a great Instrument!!" He has commented on its quality several times. Two years ago when the Prescott National Forest was on fire about a mile from our house we had to evacuate. The first two things I put into the car were my Talsma Guitar and several photo albums. I have 4 guitars in my music room... the Talsma is my favorite. Thanks.
Received home delivery of another Talsma masterpiece yesterday. A TENOR size Lyon and Healy Super Deluxe Bell reproduction (in koa). Absolutely exquisite! A big brother to the concert version I had with me at the Hall of Fame show (and is on his web site). Also after further research, I can again confirm that he is currently making the finest ukes in the World.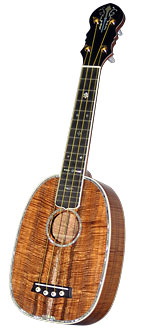 Rick Rasay
After finding out what an incredible a luthier he is, also selling a few of his custom ukes at a local ukulele festival, and having him repair and also add his artistic talents to some of my vintage ukes, I had Dave build a custom uke that I designed. I am extremely pleased with the outcome to say the least. Dave's handiwork and attention to detail is exquisite.
The sound is incredible with nice, nice action and intonation. If you are interested in ever getting a custom uke built to your specifications, Dave Talsma is a name you ought to highly consider. Swartz Creek, Michigan might be a strange place to get a ukulele built, but you can bet that you will get a super high quality player for a reasonable cost. The best ukes aren't always coming from Hawaii...
I bought a new Talsma Uke at Uke Expo '03 and I couldn't be happier about it. It's a beautiful instrument and it sounds spectacular. I have a couple of other great sounding ukes, a Kaholas & Co. and a Kamaka, but the Talsma is rapidly becoming my favorite. Considering the sound and the beauty of the instrument, my wife even thought it was reasonably priced. Dave Talsma, the maker, is one of the nicest guys you'll ever meet.
I just received David Talsma's 34th creation - a beautiful koa wood tenor uke. This guy is a master craftsman.
I own thirty other vintage ukes and this one of the best!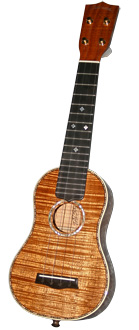 Bill Dean
Well, I finally have ukulele bragging rights! You would think that with all the favorable comments I've read about Dave Talsma, I'd be prepared for the jaw dropping beauty of my new Soprano. To say it's well crafted is an understatement. But the biggest surprise came from the bright clear sound it makes. To think something so small has such volume, coupled with the fact that it's going to open more over time is just icing on the cake. The smooth/fast action is a great plus for my normal "ham fisted" playing style. In short, this gem of a ukulele far exceeds my expectations.
Finally, Dave's meticulous craft extends to his customers as well. I found Dave to be thoughtful and prompt in all my dealings with him. If one is looking for a great ukulele with a personal stamp, you need'nt look any further.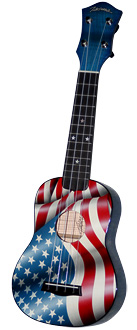 Ron Gordon
Dave Talsma's ukes are among the best I've ever played. I own two... both a result of some arm twisting at uke expos. It was well worth it. The combination of materials, design, and fit & finish make for excellent sound and playability.
His low G concert is a particular knockout because the sound is really unique due to an upper bout sound hole, cedar top, and the highest grade koa. (View)
The other one is a maple soprano with a spruce top that has great attack, balance and clarity between notes. Both ukes have a very different tonal presence which adds to my musical possibilities. Order one from Dave and I can guarantee your uke happiness!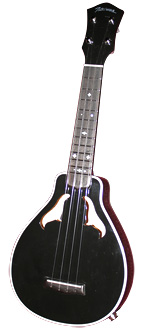 Toby Zornado
Dave Talsma has built me the perfect ukelele - again. This masterpiece is a concert scale Vita. The finish is a black so deep and polished that other spatial dimensions, I'm almost certain, lurk somewhere in the lower bout near the bridge. ZornadoThe ebony fret board and pearl inlays shine like jewels; white binding and the pearl-handled tuners and graceful seal-holes complete the design.
Ah, nirvana! Happily, the entire package goes well beyond my meager powers of description. Go see it at his web-site. I highly recommend you save your pennies, order a Talsma uke, and when it finally arrives, declare a holiday, retire to your favorite playing spot for a year or two and discover your true nature with the instrument. Viva La Talsma!

Nancy Eaton
Well, you said I'd be blown away, and you were right. First of all, gorgeous, more gorgeous and perfectly spectacularly gorgeous, down to the smallest detail. What an absolute delight. I'm so glad you suggested the EI rosewood for the back also, it's so beautiful and works perfectly with the rest of the design. You nailed both the headstock and bridge, the fruit inlays are so much fun and the painted fruit looks great. Thank you for indulging me in this little tropical fruit salad of a graphical treatment. I know it won't be for everybody but it's perfect for me.

And then I played it. And WOW. Just WOW. It plays so effortlessly and sounds perfect. No dead notes, no intonation issues, perfect width fretboard, everything just smooth as silk up and down. Fantastic tone and volume. I normally don't use Worth strings but these sound outstanding on it. AND...then I charged up the pickup and plugged it in and WOW again!!! It sounds so natural, I could not believe how good this pickup is.It's just perfect, and I really appreciate your suggesting it. It's exactly what I wanted.

I could not be happier. Actually, I could be happier if I could afford to commission another ukulele from you right away. Unfortuately I can't right now (gotta get a new roof), but I would definitely love to work with you again, maybe on a concert scale instrument later on this year. Thank you so much, Dave.
I truly want to thank you. I cannot begin to say how awestruck I am with this beautiful instrument you created. It sounds fantastic. I can't imagine how loud it's going to get when it opens up. Needless to say it turned out better than I anticipated and I thank you for that. You can easily charge double the cost and would have no trouble getting it. Those Hawaiian K brands have nothing on you...Thanks again!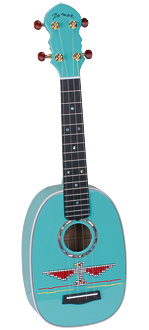 Anonymous
This is my custom Thunderbird design ukulele that I had Dave build for me. I always loved Native American artwork and what better way to enjoy this was to have Dave build a turquoise colored ukulele with this beaded Thunderbird on the front body of the ukulele. The T-Bird uke has paua abalone trim around the sound hole as well as the paua dots on the ebony fretboard that adds to its beauty. Dave is truly a master luthier and I couldn't think of a better person to build it.
When it arrived, I was so excited to see my dream come true. It was exactly how I pictured it. Not only does it look good but plays and sounds like a bird. If your thinking of having a ukulele made, you too will be amazed with Dave's gifted talents. I own some high quality Hawaiian made ukuleles and Dave's ukes are in the same caliber that has to be recognized. I am proud to be an owner of Dave's custom made ukuleles and you will be too.

Thanks so much Dave, I'm honored.

Collette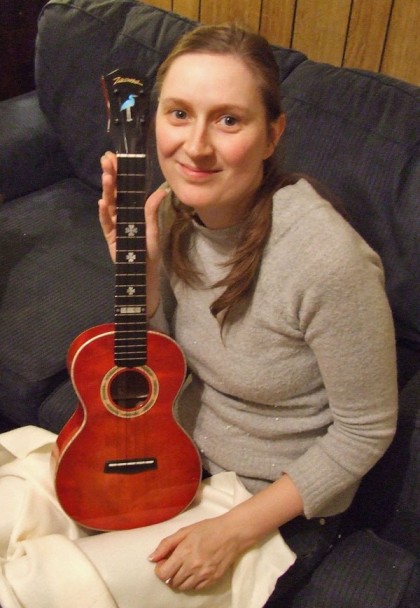 What can I say?! First of all, although when you sent
me the photos I was blown away, they didn't do it justice. Everything is perfect, the colour is fantastic and I love how the grain shows through. I love the curve of the back and the elegantly thin headstock, the beautiful blue heron, the curly maple binding and the list goes on...

Mostly I love how you took the elements we gave you and created such a perfectly balanced work of art.
Everyone who has seen it, musician or not, is in awe of it. Just as an objet d'art you have succeeded way beyond our expectations. Then there's the way it sounds... so balanced and sweet, nothing more could be desired. I know the sound will continue to bloom for the many years that this engagement ukulele will be passed down as an heirloom. Thank you so much for your fine craftsmanship. I hope that when I show the lovelele to our uke club tomorrow night you will find yourself with many new customers. I will continue to spread the word about your work but it's really unnecessary because the instrument speaks for itself.

Steve Williams
I recently received my long awaited (well it seemed that way!) custom Dave Talsma tenor ukulele. This is a gorgeous instrument. Koa back & sides, bear claw spruce top, maple bindings and rosette, ebony fret board bridge & faceplate. And it has a beautiful faceplate inlay that is a perfect copy of a Harvey Ellis design from our Stickley furniture.

She has sounded absolutely wonderful from day one, but I swear it gets even better every day and she's a tremendous joy to play.Every facet of this uke's fit and finish is flawless. Dave is a true artist and an incredible luthier.

I have a long way to go to be worthy of this fine instrument, but every time I pick her up there's new inspiration.